Course Information
A present they will remember..
To choose a great gift for young people age 10 upwards just select a course from the drop down list above. To learn more about the courses scroll down to review the links.
Purchase an open ended voucher for any of our driving activities from £20 and this can be contributed towards any driving activity.
Vouchers for Taster, Advanced, Solo, Level 1 to 4 (as a single Level), Skid Car and 4×4 Off Road are valid for 12 months.
Vouchers for Solo Steps and Level 1 to 4 (two Levels or more) are valid until the 18th birthday.
The voucher will show your unique code to be used in all online bookings.
You will receive a DL size voucher in the post – just like the one below.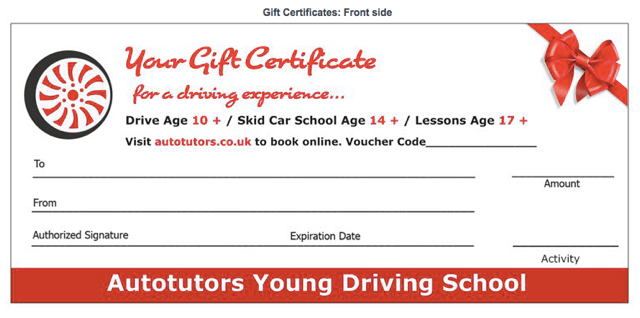 Review all YDS courses in brief.
Read our 5 star customer ratings.
Review Autotutors road driving lessons.